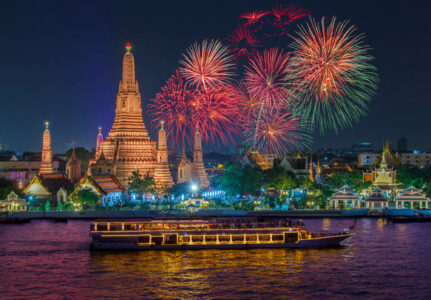 Sister city since: November 16, 2018
Overview
Bangkok is located on the delta of Chao Phraya River in the central plains of Thailand and on the east bank of Chao Phraya River, south of the Gulf of Thailand. As the capital of the Kingdom of Thailand, Bangkok is the largest city in Thailand and an important city in Southeast Asia. It covers an area of 1,568 square kilometers with a population of more than 8 million. Bangkok has a well-developed tourist sector. It is Thailand's political, economic, cultural and educational center. It also serves as a hub for trade, transportation and technology.
Relations with Wuhan
In November 2013, Wuhan International Friendship Cities Conference was held in Wuhan, during which the two cities signed an agreement on the establishment of friendly exchanges relationship.
In October 2014, then Vice Mayor Shao Weimin led a delegation to Bangkok. During this trip, the Wuhan Economic and Trade and Tourism Promotion Conference was organized, at which Wuhan Optics Valley Beidou Holding Group showcased its geo-spatial information technology, which was highly recognized by the audience.
In November 2017, Deputy Mayor of Bangkok came to Wuhan to attend the 2017 Wuhan International Friendship City Investment and Trade Cooperation Forum and the International Friendship City Forum of the 3rd Investment Promotion Conference for Fortune Global 500 and World-Renowned Foreign Companies, at which he delivered a keynote speech.
In November 2018, then Deputy Secretary General of Bangkok City led a delegation to Wuhan and attended the International Friendship Cities Conference 2018, and the two cities formally established sister city relation.
In July 2019, the Bangkok Metropolitan Administration again led a delegation to attend Wuhan International River Crossing Festival 2019 and earned a medal.
In June 2019, Hu Shuguang, then Wuhan CPPCC Chairman led a delegation to Thailand to attend the Bangkok Friendship City Week in Bangkok.